Landscape lighting can be an overlooked portion of the overall design for your property, but it's important to put the finishing touches on any outdoor project. First, proper lighting is a safety and security essential that will keep your guests from tripping on steps and deter anyone who might be thinking about breaking in under the cover of night. Second, a great landscape lighting design adds depth and interest to your property and allows you to enjoy your outdoor rooms anytime, day or night. It also boosts the curb appeal and overall value of your home, ensuring it looks its best 24/7.
Choosing the Right Landscape Lighting in Union County NJ
Although landscape lighting in Union County is important, it can also be an expensive investment if not properly planned. That's because your lights cost more than just the initial investment in the lamp and installation — you also need to factor in the lifetime cost of running the lights. To avoid unexpectedly high electricity bills, Parker Homescape exclusively installs low-voltage options that make sustainability a priority. This reduces the overall amount of electricity required to light up the landscape to both protect the environment and keep your energy bills low.
In particular, one modern option will help any homeowner get the best look while being eco-friendly: LED lights.
LED Lighting
Light emitting diodes — better known as LEDs for short — are a super-efficient way to get clean, white light without using much electricity. They use 75 percent less power than traditional incandescent bulbs, and they last 25 times as long before burning out, making them a "set it and forget it" choice that works well in outdoor applications. To get a sense of just how long they last, consider that the average LED bulb provides 50,000 hours of illumination — that's five years of continuous light, assuming you never turn it off. Compare that to just 1200 hours for a standard incandescent, and it's easy to see that LEDs save money in the long run and offer the greatest convenience, especially if your outdoor lights are in hard-to-reach places where it's no fun to change the bulb.
LEDs also don't contain any poisonous mercury like fluorescent bulbs do, so you can dispose of them easily, with no worries about them polluting New Jersey's waterways. Unlike CFLs, they also provide instant light with no "warm-up" period, and most people think they do a better job at highlighting the natural colors of your landscape. Best of all, LEDs continue to fall in price, making them an all-around great choice.
When you choose LEDs, you'll keep your electric bills as low as possible by opting for sustainable lighting. As a general rule of thumb, what's good for the environment is also good for your pocketbook, and you'll be happy with your design for years to come when you know that you won't be paying high energy bills to maintain the look you love.
The World of Landscape Lighting
Truly great landscape lighting is much more than just adding a few stake lamps along your front walkway. Any truly great landscape lighting firm in Union County, NJ considers the shape and size of your home and works with light to highlight its best features. You'll also want to add task lighting and general lighting in outdoor kitchens, patios and pool areas, along with special spotlights and washes that create stunning visual effects that take your landscape plan to the next level. Take a look at just some of the artistic possibilities:
Silhouetting
Light doesn't always have to shine directly on an object to create a dramatic effect. Silhouetting does the opposite by shining a light behind an item of visual interest so you see only its dark outline. This is a great way to highlight interesting shapes in your landscape in an unexpected way.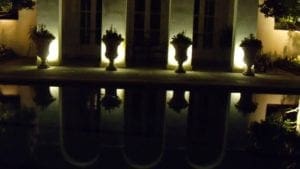 Shadowing
Like silhouetting, shadowing is more about creating interesting dark spaces instead of simply shining a spotlight on a favorite object. In the case of shadowing, the object is to create a fascinating shadow on an expanse of wall or on the ground. It's a great way to break up large areas, but a good designer can find ways to use this effect just about anywhere.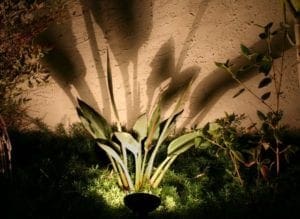 Uplighting
Typical porch and patio lights shine down on the ground, but this is often the least interesting part of your landscape. Uplighting, on the other hand, aims light upward into trees or onto your best architectural features to highlight them without creating harsh shadows. Thoughtfully planned uplighting is often the difference between truly incredible landscape lighting and plain-Jane security lights.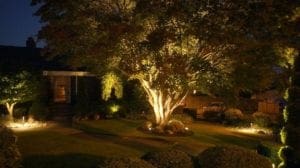 To get outstanding landscape lighting in Union County, make sure to work with a professional who has experience in excellent innovative design and in using sustainable materials to get the job done. This will ensure that you get a lighting plan that's customized to your property's specific needs, as well as one you won't end up paying for in your electricity bills forever. After all, if it's too expensive to operate, you'll just turn your outdoor lighting off — and that would be a sad ending to your otherwise brilliant landscape lighting plan.
Why Choose Parker Homescape?
We have transformed hundreds of landscapes in and around the Somerset, Hunterdon, Essex and Union County areas, including Summit, Warren and Westfield since our founding in 2006. Unlike many of our competitors, we undertake only one client project at a time, ensuring that every deadline is met and that every detail is considered. Additionally, a lead foreman with over 30 years of experience oversees your project from start to finish. This approach makes us one of the most sought after landscape design companies in Central New Jersey, and translates into a seamless, stress-free experience for you and your family.
Whether creating an outdoor living space, installing custom landscape lighting or building a custom outdoor fireplace, we believe that each landscape project is unique. We proudly promise customized solutions, superior customer service and competitive pricing for each of our clients.