Pond and Water Feature Design & Construction
Aquatic Soundtrack To Your Landscape
A modern Koi pond that creates the perfect sophisticated backdrop for outdoor entertaining. A sparkling waterfall that brings energy to your landscape. A moving stream along the edge of your garden. Beautiful water features such as these enhance your home, your landscape, and your life.
At Parker Landscape Design, our innovative designers and accomplished landscape architects carefully consider every element of your New Jersey property to ensure that your water feature is thoughtfully designed and skillfully constructed. With nearly 70 years of experience, our team specializes in designing, servicing, and installing all types of ponds and waterfalls. Our water features are created using the highest quality materials, producing a natural, elegant appearance you'll enjoy for years to come.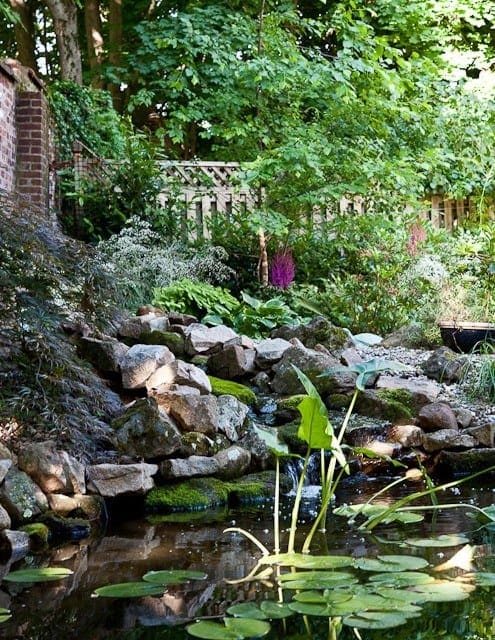 Our award-winning water feature design and build options include:
Ecosystem Ponds

Our ecosystem ponds can be small or large, depending on your space and budget, and include a balance of aeration, filtration, plants, fish, rock, and gravel – all interacting to keep the pond naturally balanced, thereby minimizing maintenance.

Koi Ponds & Fish Ponds

Fish ponds and Koi ponds have been enjoyed in homes for thousands of years, and for good reason. Its dynamic living environment and the serenity of flowing water bring a reinvigorating element to any space. Our Koi pond designs are entirely custom-designed for your property, tastes, and lifestyle, and can be large or small, rustic or modern. And we include all necessary aeration, filtration, plants, fish, rock, and substrate for a turnkey pond solution.

Pondless Waterfalls

Our waterfalls and streams provide the sights and sounds of running water, without the maintenance and water depth of a pond. In addition, you can match the level of water sounds to your environment and desired mood. The Parker Landscape Design team can custom design shelves of rock that are close together for a quieter, subtler sound, or shelves that are farther apart for a deeper, more profuse sound.
At Parker Landscape Design, we have a reputation for excellence in all aspects of home improvement – including a pond and waterfall design. We take great pride in enhancing your landscape with outdoor water features that help your property stand out from the rest.