Outdoor Kitchen & Bar Design
Your Inner Master Chef, Outside
Whether you're craving an outdoor space that's simple and functional or creative and elaborate, an outdoor kitchen allows you to display your culinary talents, efficiently entertain outside, and enhance your landscape.
For those warm days when it's difficult to leave the pool or patio, Parker Landscape Design will create the perfect space for meals, entertaining and friendly conversation. Our team of outdoor living space designers works with you to learn your cooking and entertaining personality. We then understand how you plan to use your outdoor kitchen, whether it is for small gatherings and family meals, or elaborate barbeques and gourmet al fresco dining. From these conversations, we develop an outdoor kitchen design that is inviting, beautiful, and more importantly, functional for your lifestyle.
Our outdoor kitchen designs utilize the highest quality materials and gourmet appliances and can include any features you can imagine, such as – granite countertops, grills, custom bars, sinks, refrigerators, utensil storage, refuse containment and food preparation areas, and more. Whatever your taste, we can design and build the outdoor kitchen of your dreams.
Additional services to enhance your outdoor kitchen: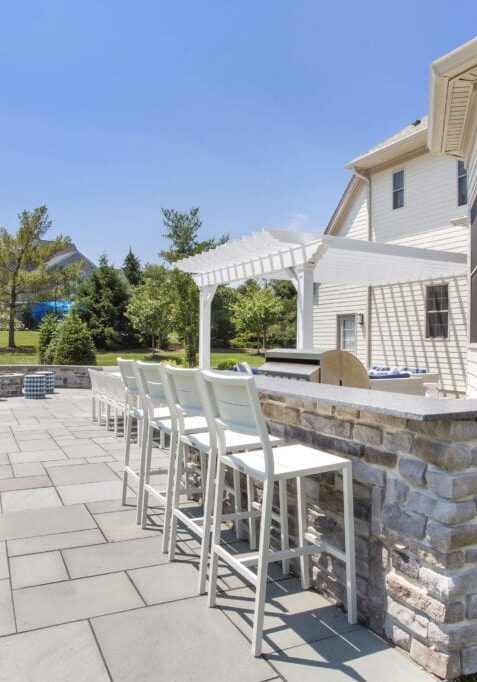 Outdoor Kitchen & Bar Design & Construction
When designing and constructing custom outdoor kitchens, the professionals at Parker Landscape Design will go above and beyond to meet your comfort and cooking needs. We will work alongside you to create a one-of-a-kind destination that not only fits your lifestyle but also complements your home and outdoor living space. From custom backsplashes to sleek countertops to must-have appliances, our team will create an outdoor kitchen that gives you one more reason to stay outside and enjoy the comfort of outdoor living.