Fire Pits and Fireplaces Add a Warm Glow to Your Home
Create a Cozy Gathering Place
There's something almost magical about fire pits and fireplaces. They invite togetherness, lingering, and both open conversation and quiet reflection. Adding one to your Westfield, New Jersey property is to create a focal point in your outdoor space, around which you can include elegant built-in seating, a patio and pergola, and so much more. You'll be drawn to it day after day, and you'll find yourself spending more time outside, enjoying the warmth of the flames amidst the cool evening air.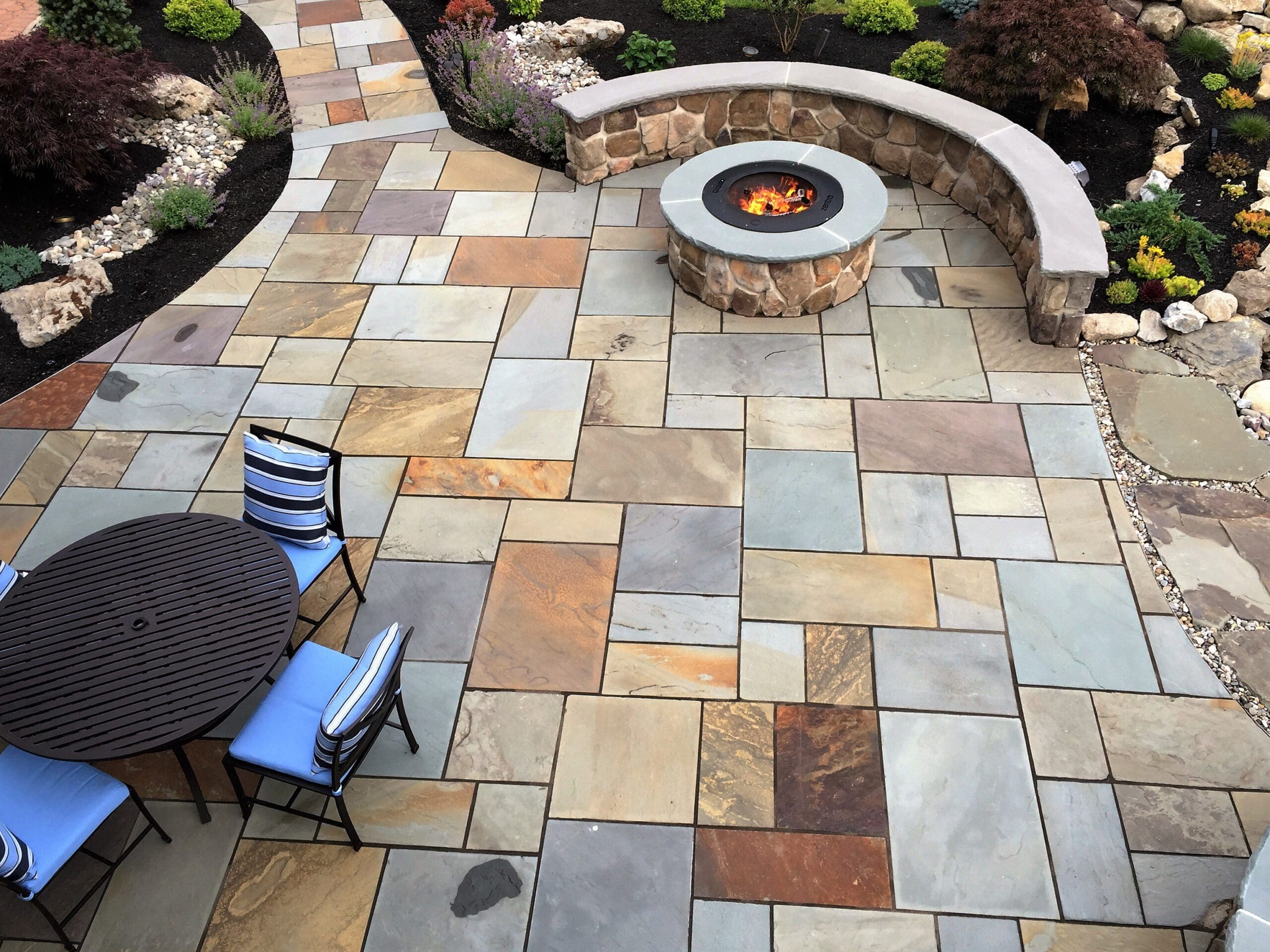 At Parker Landscape Design, we love installing fire pits and fireplaces because we understand how much joy they bring and how they can improve your property value. Our team has worked on thousands of projects in Westfield, New Jersey and nearby communities, and we'd love to put our expertise to work for you, too. With fine materials, high-quality craftsmanship, and creative ideas that help your landscaping features stand out, we work safely and efficiently with respect for your home and your family to create long-lasting landscapes you'll be enjoying for years. 
You can include a fire pit or fireplace in your landscape transformation, but even if you're not planning on a big renovation, there's no reason to wait. Add a fire feature today and start enjoying it. Contact us for a consultation. 
Why Choose Parker Landscape Design to Design and Install Your Fire Pit or Fireplace
You want an elegant fire feature that blends seamlessly with your existing landscape features and is built to last for years. That's what we do best. Parker Landscape Design has years of experience in enhancing outdoor spaces to elevate your lifestyle, improve the way you enjoy your home, and increase your property value when it's time to sell. This is how we set ourselves apart:
A collaborative design process and personalized attention

New Jersey's largest selection of material choices

Flawless installation with a focus on safety, fine details, and efficiency

One point of contact throughout your project: our owner, Scott Parker

A history of award-winning designs and landscaping excellence throughout the region

Detailed proposals that show you what to expect so you can make informed decisions about your property

A full-service landscaping company that can take any project from start to finish
Again and again, homeowners choose fire pits and fireplaces to help create a cozy, inviting outdoor environment. When you have your own, you'll understand why. Contact us for a consultation. 
are Featured in Many of Our Projects
Parker Landscape Design has created inviting and inspiring landscapes throughout Westfield and our neighboring New Jersey communities. Explore our Portfolio page to see examples of our recent work and discover ideas for your own outdoor oasis.
Kind Words From Our Clients
Throughout the Westfield, NJ Area
Parker Landscape Design is a leader amongst landscaping companies in New Jersey, and our satisfied clients within Somerset, Essex, Union, Morris, Mercer, Middlesex and Hunterdon counties have plenty of reasons to share why. From the quality of our work to the transparency of our process, see why our award-winning team has been the choice for thousands of landscaping projects in the region.
When you work with Parker Landscape Design, you can expect professional communication
and quality craftsmanship every step of the way.
Initial Phone Call/Email

In our initial communication, we will get a general sense of your landscaping needs and determine whether our services are right for you.

Property Visit

During our first visit to your property, we'll ask the necessary questions to make sure the work is aligned with your long-term landscape goals. We will also gather detailed information on the various services needed to allow us to provide you with an accurate proposal. We will also determine whether or not we recommend our professional design services for your project.

Signing Onto the Project

We will schedule a phone call or a physical meeting to discuss the proposal and/or design and will go over the project details and pricing. When you are ready to sign, we will establish a realistic timeline for your project.

Project Begins

Once work begins on your landscape, you can expect efficient craftsmanship and quality results as we work hard to meet our established timelines. You can depend on our team to respect your time and your property, and our owner will be your primary point of contact throughout the project to ensure your needs are being met. We also guarantee a same-day response during business hours for any questions or concerns about the project.
to Meet All Your Landscaping Needs
Parker Landscape Design offers comprehensive landscaping services to transform your home. Whether you are looking for an outdoor living space for your family to enjoy or wish to boost your home's resale value by enhancing its curb appeal, our landscape professionals have the upscale solutions you need. View our entire array of offerings at our Services Page.
Landscape Design

We offer superior landscape design and architecture to give your outdoors a refined, luxurious aesthetic. Learn more about our work on our Landscape Design page.

Landscape Installation

In addition to designing an outdoor oasis you'll love, we also seamlessly manage the installation of your landscape from start to finish. Explore our Landscape Installation page to discover more.

Outdoor Living

Expand your home's usable space with outdoor living areas including fire pits, outdoor kitchens, built-in grills, and much more. Browse our Outdoor Living page to see our full range of available options.
Creating Outdoor Living Spaces
in Westfield, New Jersey and
At Parker Landscape Design, we are proud of the work we have done enhancing landscapes across our seven-county New Jersey region. Here are just a few of the towns we service:
Somerset County - Warren, Far Hills, Bernardsville
Union County - Westfield, Summit, New Providence
Hunterdon County - Clinton Township, Califon, Tewksbury
Morris County - Mendham Township, Mendham Borough, Chatham Township
Essex County - Short Hills/Millburn
Middlesex & Mercer County
At Parker Landscape Design, we believe every landscaping feature can be a masterpiece on its own and in harmony with the rest of your outdoor space, and that's the approach we take to every project. High-quality materials and fine craftsmanship bring your fire pit or fireplace to life, and our unparalleled customer care ensures you enjoy the process. From small enhancements, like a fire feature or a fresh garden bed, to complete property transformations, we're on the job. 
We're honored when you choose us for all your landscaping projects, and we're committed to earning your trust every step of the way. Contact us for more information on fire pits and fireplaces for your Westfield property, and schedule your consultation today.
We guarantee a 24-hour response during business hours