for Elegant Outdoor Spaces in Basking Ridge, NJ
An Award-Winning Team That Has Completed
Thousands of Projects in the Area
The Basking Ridge lifestyle is elevated and individualized. People make their homes here to enjoy personal space while maintaining their connection and proximity to New York City. It's a small town, with all the charm and relaxation you'd expect, amid a vibrant, bustling region filled with opportunity, culture, and excitement.
An Award-Winning Team That Has Completed
Thousands of Projects in the Area
At Parker Landscape Design, we delight in working with homeowners in Basking Ridge, New Jersey and throughout the area to create custom outdoor spaces that enhance their lifestyles. Since 2004, we've completed thousands of landscape design and build projects, each with a commitment to fine craftsmanship, high-quality materials, and beautiful plantings suited to our soil and climate. Our comprehensive custom landscaping services include outdoor living areas, patios, walkways, landscape installation, landscape lighting, fire pits, and much, much more.
Our Clients Value Fine Craftsmanship,
High-Quality Materials, and Friendly Service
Parker Landscape Design is a leader amongst landscaping companies in New Jersey, and our satisfied clients within Somerset, Essex, Union, Morris, Mercer, Middlesex and Hunterdon counties have plenty of reasons to share why. From the quality of our work to the transparency of our process, see why our award-winning team has been the choice for thousands of landscaping projects in the region.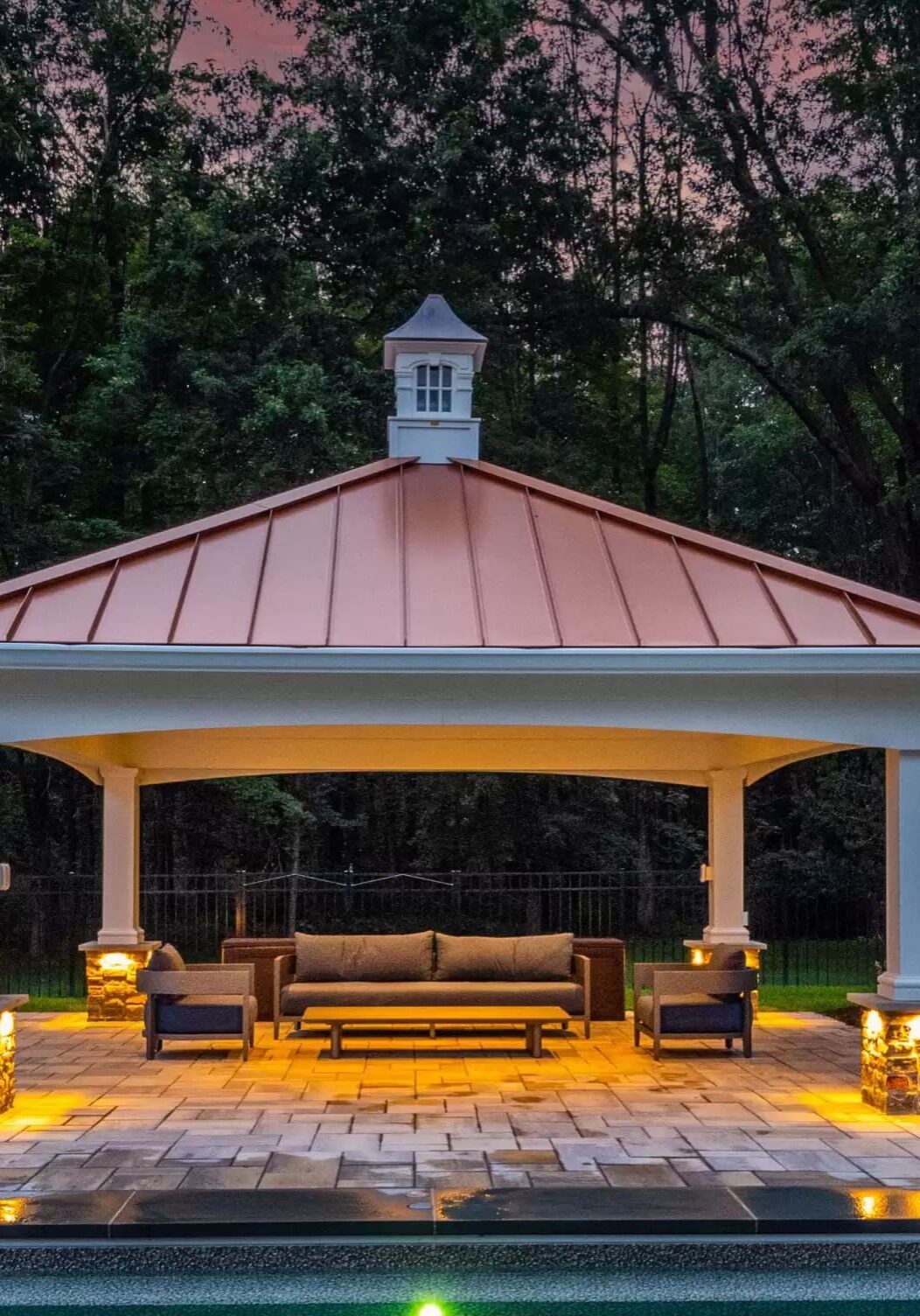 Our owner, Scott Parker, is personally invested in every landscape, and he is your one point of contact before, during, and long after your project. This allows for streamlined communication with responses to your messages on the same business day. Aside from any weather delays or other unexpected events, our entire team works diligently to meet the proposed project timelines.
Enjoy a high-level experience with your landscaping services, where your ideas are heard and incorporated as we guide your decisions with expert recommendations. No matter how complex the project, we take pride in the fine details and work with respect for your property, safety, and comfort. Contact us today to learn more about our award-winning landscaping services in Basking Ridge, New Jersey and throughout Somerset, Morris, Essex, Union, Mercer, Middlesex and Hunterdon counties.
Parker Landscape Design offers comprehensive landscaping services to transform your home. Whether you are looking for an outdoor living space for your family to enjoy or wish to boost your home's resale value by enhancing its curb appeal, our landscape professionals have the upscale solutions you need. View our entire array of offerings at our Services Page.
Landscape Design

We offer superior landscape design and architecture to give your outdoors a refined, luxurious aesthetic. Learn more about our work on our Landscape Design page.

Landscape Installation

In addition to designing an outdoor oasis you'll love, we also seamlessly manage the installation of your landscape from start to finish. Explore our Landscape Installation page to discover more.

Outdoor Living

Expand your home's usable space with outdoor living areas including fire pits, outdoor kitchens, built-in grills, and much more. Browse our Outdoor Living page to see our full range of available options.
for a Seamless Landscaping Experience
When you work with Parker Landscape Design, you can expect professional communication
and quality craftsmanship every step of the way.
Initial Phone Call/Email

In our initial communication, we will get a general sense of your landscaping needs and determine whether our services are right for you.

Property Visit

During our first visit to your property, we'll ask the necessary questions to make sure the work is aligned with your long-term landscape goals. We will also gather detailed information on the various services needed to allow us to provide you with an accurate proposal. We will also determine whether or not we recommend our professional design services for your project.

Signing Onto the Project

We will schedule a phone call or a physical meeting to discuss the proposal and/or design and will go over the project details and pricing. When you are ready to sign, we will establish a realistic timeline for your project.

Project Begins

Once work begins on your landscape, you can expect efficient craftsmanship and quality results as we work hard to meet our established timelines. You can depend on our team to respect your time and your property, and our owner will be your primary point of contact throughout the project to ensure your needs are being met. We also guarantee a same-day response during business hours for any questions or concerns about the project.
Your Outdoor Design and Build Experts
With generations of experience, specialized horticulture knowledge, and a long history of excellence in the community, Parker Landscape Design helps you fulfill your ideal vision for your property. By merging your lifestyle goals with our expertise in luxury design and craftsmanship, we work to increase your property value, enhance the neighborhood, and bring more joy to your daily life at home. 
Our deep understanding of local building regulations, the soil, and the climate allow us to address potential challenges before they arise and incorporate solutions into the design. Through it all, we'll provide the information you need to make the right choices based on aesthetics, durability, and maintenance requirements over the long term. You're welcome to stay involved in the project, ask questions, and respond to our updates, or you can step back and rely on us to manage every detail of your landscape and deliver results that exceed your expectations. 
In addition to outdoor living design and installation, drainage solutions, landscape design and installation, and landscape lighting, we also offer consultation services to help you plan your outdoor transformation and make informed choices, whether or not you proceed with Parker Landscape Design on the next steps of the project. If you do work with us on design and installation after your consultation service, we'll refund the consultation fee as outlined in the consultation agreement. 
Dream bigger. Expect more. This is your home, and you deserve to find the relaxation, entertainment, and connection you desire in your outdoor space. The right landscaping services—with the right landscaping team—can make it happen. Contact us today, and before long you'll be spending more time outside, enjoying the plants and features you've specifically chosen to elevate your experience at home in Basking Ridge, New Jersey.