Retaining & Seating Walls
That's Stately And Sophisticated
Due to New Jersey's many hills and valleys, retaining wall systems are a necessity on many properties. A landscaping retaining wall is typically used to terrace slopes, gain more level land, establish boundaries, and level planting beds. These innovative barriers also make inviting spots to sit and can be used to increase functional yard space. Seating walls can be a practical design feature included in retaining walls, usually adjacent to outdoor living spaces.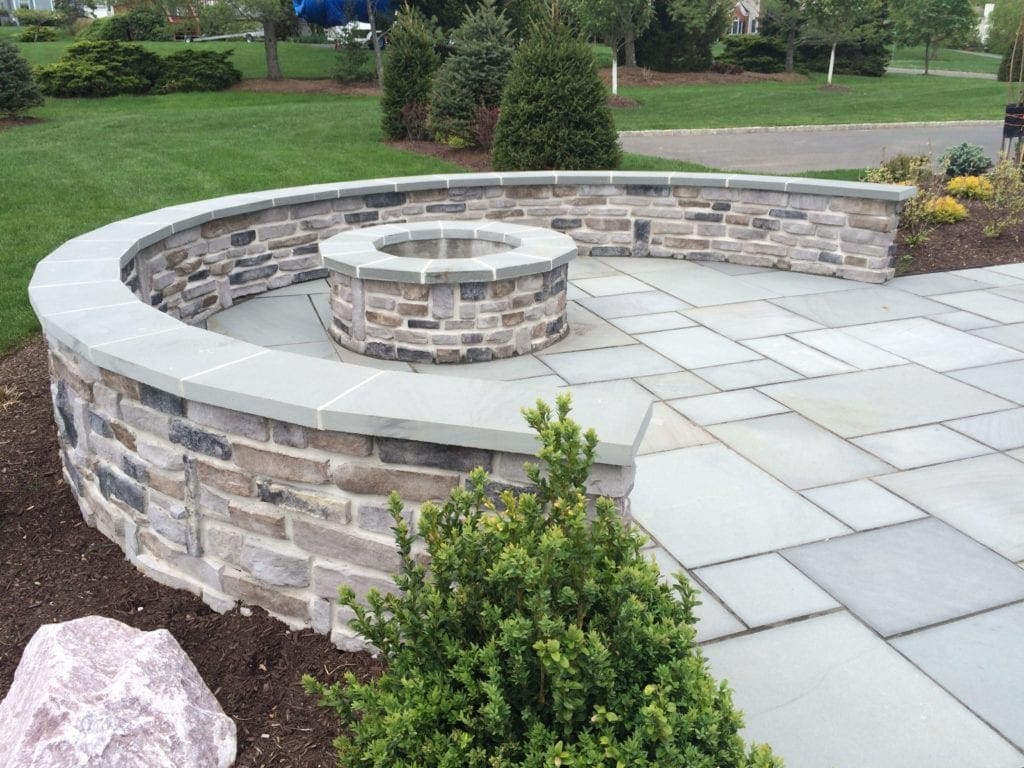 Retaining wall systems are typically used to bind soils between two different elevations, often when the terrain has troublesome slopes. They restrain saturated soil that could otherwise slump and slide away from a foundation or damage the surrounding landscape. Depending on your needs and tastes, our landscape design team will help you choose from a variety of options and materials, including boulder walls, natural stone walls, cultured stone walls, block and cap walls, and brick veneer walls.
Seating walls are the best way to double the value of your retaining wall or add dimension to your patio. Seating walls also called sitting walls or seat walls, are simply short walls that are designed for comfortable seating.
Important things to remember when planning your seating wall design:
Height

The average height of a sitting wall is 18" – 21″, but this can vary.

Width

To make a surface that's safe and comfortable, the tops of seating walls are generally 12" wide, minimum.

Materials

Seating walls can be constructed from a variety of materials – paver stone, bluestone, cultured stone, brick, or other natural stone choices.

Surface

At Parker Homescape, we like to avoid capping a sitting wall with rough flagstone or other irregular surfacing. We'll help you choose something that's comfortable to sit on.

Value

A well-designed stone sitting wall is a desirable feature that may increase the value of your home.

Functionality

If your patio construction requires a retaining wall due to grade, then a seating wall will double the usability of the space.
Additional services to enhance your retaining wall or seating wall:
Retaining Wall & Seating Wall Solutions
Whether you're interested in installing new retaining wall systems, adding a sitting wall, or rebuilding an existing wall, Parker Homescape's team will help you increase the useable area of your property, while adding a beautiful, yet necessary landscape element. With the most extensive designs and material options for retaining walls and seating walls in New Jersey, we have the expertise and resources to surpass your expectations.