That's As Refreshing As The Pool Itself
Does your aging pool environment need a facelift? When you own a pool, having the right pool surround or pool decking makes all the difference in enjoying an outdoor oasis or avoiding a landscape eyesore. Not only does the proper pool decking bring elegance to your environment, but it also improves the resale value of your home.
Whether you're in need of pool deck resurfacing or completely new pool decking, the pool deck designers and contractors at Parker Homescape can help.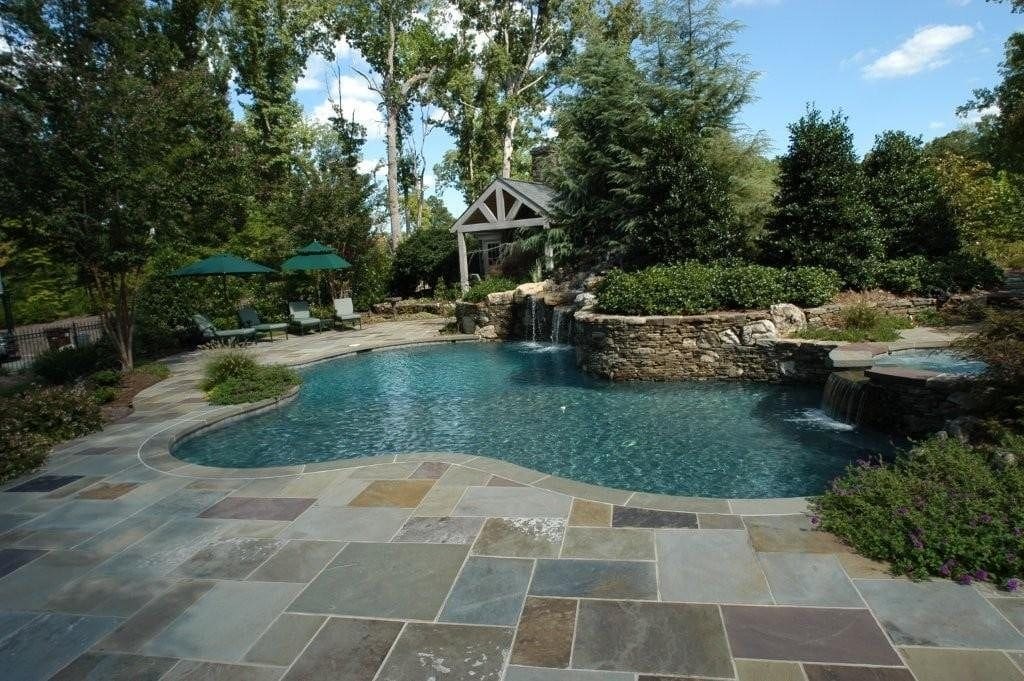 Pool Decking Design & Construction
Choosing the right type of pool decking can be both exciting and overwhelming. At Parker Homescape, our highly trained designers use their creativity, knowledge, and expertise to guide you through the process of pool decking design, resurfacing, and construction.
Will the material you choose be slippery when wet? Will the surface sizzle in the hot summer sun? Our experts know the answers to all your questions and will help you discover what your pool environment needs, considering shape and contour, furniture size, safety precautions, location of the sun, and colors and materials that won't burn bare feet.
Our Popular Pool Decking Options Include:
Natural stone (both wet-laid and dry laid): Such as Travertine, Bluestone, Tennessee Mountain Orchard Stone, and more
Paver stone: Featuring a Lifetime Manufacturer's Warranty on paver stone pool decking
A variety of colors and styles, from modern to traditional to rustic
A selection of borders, from clean and sleek to elaborate and ornate
Custom Pool Decking Solutions
When designing and installing custom pool decking, the professionals at Parker Homescape will flawlessly match the surrounding design to the size and style of your pool and home architecture. During your consultation, we'll thoroughly discuss options with you, including the advantages and disadvantages of natural stone pool decking vs. paver pool decking, aesthetics, resale value, functionality, longevity, drainage, and scale. Our team will work with you to choose the pool decking solution that exceeds your expectations and increases your home's value.