Custom Walkway Design and Installation
A custom walkway is one of the most important elements of your landscape. After all, it greets guests even before you do. From the doorway to the patio, the front door to the driveway, or around the side of the house, these pathways enhance the beauty and functionality of your home.
Whether you're looking for something simple or something elaborate, our hardscaping team will work with you to envision your walkway and help you choose from the following options: Stepping Stone Walkways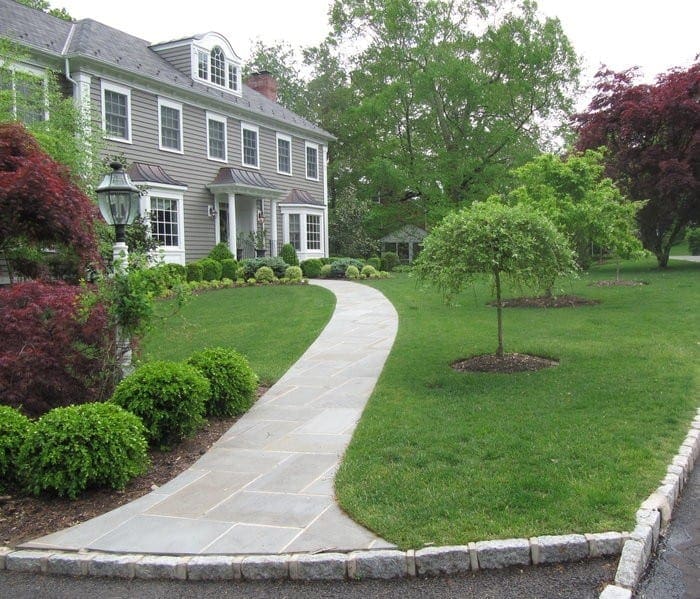 Whether it's a paver stone or natural stone walkway, these charming paths can be set in grass, in mulch, or into gravel. Filter fabric can be installed to prevent weeds and ensure a low-maintenance solution for the appropriate application. A paver stone walkway built in this fashion comes with a lifetime manufacturer's warranty, as well.
Placed in the sand or another substrate (dry-laid) or permanently laid in cement (wet-laid), these custom walkways can be constructed with natural stone or pavers. If there is a substantial grade change, steps can also be incorporated into the walkway design to offer a safer walking path.
Additional services to enhance your walkway:
Custom Walkway Design & Construction Services
When designing and constructing custom walkways, the professionals at Parker Homescape will flawlessly match the walkway design to the style of your home. During your consultation, we'll thoroughly discuss options with you, including the advantages and disadvantages of dry-laid versus wet-laid, aesthetics, resale value, functionality, longevity, drainage, and scale. Our team will work with you to choose the walkway solution that exceeds your expectations, amazes your guests, and enhances your property value.