Expert Landscaping Services
for a Professional Look in Peapack, New Jersey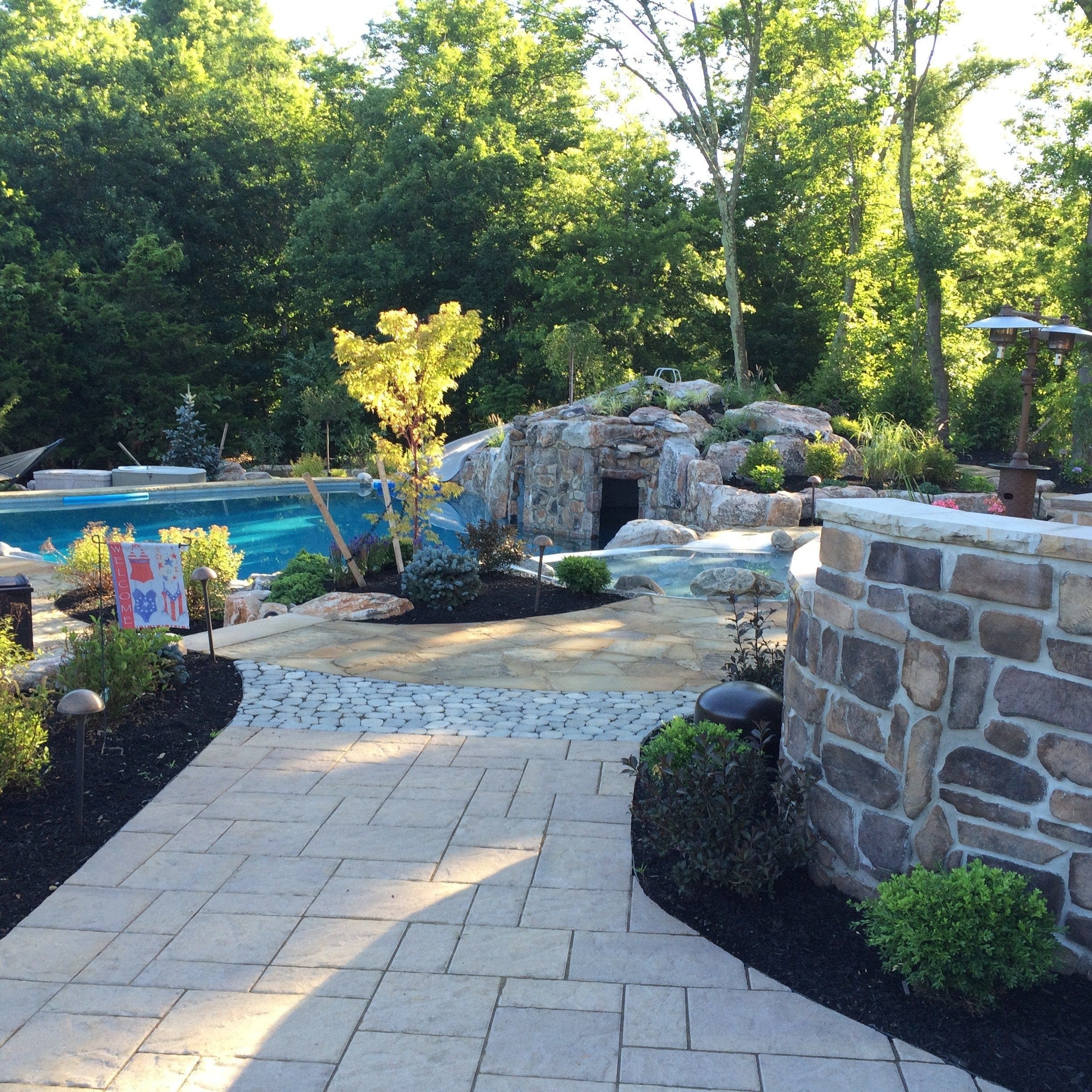 Receive Personalized Landscaping
from an Award-Winning Team
The natural beauty in and around Peapack, New Jersey influences the way we landscape your home. We embrace the seasons, using stately trees, blooming garden beds, and inviting stretches of lawn to draw people toward the warmth of your home. Parker Landscape Design works diligently to give homeowners in Peapack professional landscaping services that will meet their expectations and create a better outdoor environment.
Receive Personalized Landscaping
from an Award-Winning Team
Our family company has been in the landscaping industry over 70 years, and we are still going strong today. You can trust our local expertise as well as our high-quality landscaping methods. It is always our goal to give you stunning landscapes that will provide you pleasure in the long term. Customized features we can add to your landscape include patios, fire pits, paver stone driveways, and pools. Effective drainage solutions will improve the function of your landscape. Allow us to design your new or existing landscape with lush lawns, mature trees, and creative plant arrangements for an inviting home presence your family will love.
is One Reason Homeowners Trust Our Landscaping Services
Parker Landscape Design is a leader amongst landscaping companies in New Jersey, and our satisfied clients within Somerset, Essex, Union, Morris, Mercer, Middlesex and Hunterdon counties have plenty of reasons to share why. From the quality of our work to the transparency of our process, see why our award-winning team has been the choice for thousands of landscaping projects in the region.
Our Dedication to Quality
Parker Landscape Design rises above the competition by offering client-focused landscaping services that get great results. Our overall integrity has given us a solid foundation of trust to build off, making every project more transparent. Our company owner, Scott Parker, is your single point of contact throughout the landscaping process. He'll guide you through the steps, listening closely to your ideas and concerns. He also keeps the team focused, so we can meet our established timelines and be responsive to any issues that arise. In fact, if you contact us by phone or email during business hours, you can expect a same-day response. 
We are extremely committed to providing high-quality landscapes to our clients. Whether we are freshening up an aged lawn and garden, installing an outdoor dining and grilling area, or designing a landscape for a new home in Peapack, New Jersey, you can count on a friendly, personalized experience that goes beyond any landscaping services you have received before. 
Contact us to learn more about our full range of landscaping services that are sure to transform your outdoor areas for the best.
Benefit from All Our Landscaping Solutions in Peapack, New Jersey
Parker Landscape Design offers comprehensive landscaping services to transform your home. Whether you are looking for an outdoor living space for your family to enjoy or wish to boost your home's resale value by enhancing its curb appeal, our landscape professionals have the upscale solutions you need. View our entire array of offerings at our Services Page.
Landscape Design

We offer superior landscape design and architecture to give your outdoors a refined, luxurious aesthetic. Learn more about our work on our Landscape Design page.

Landscape Installation

In addition to designing an outdoor oasis you'll love, we also seamlessly manage the installation of your landscape from start to finish. Explore our Landscape Installation page to discover more.

Outdoor Living

Expand your home's usable space with outdoor living areas including fire pits, outdoor kitchens, built-in grills, and much more. Browse our Outdoor Living page to see our full range of available options.
is Your Key to an Amazing Landscaping Experience
When you work with Parker Landscape Design, you can expect professional communication
and quality craftsmanship every step of the way.
Initial Phone Call/Email

In our initial communication, we will get a general sense of your landscaping needs and determine whether our services are right for you.

Property Visit

During our first visit to your property, we'll ask the necessary questions to make sure the work is aligned with your long-term landscape goals. We will also gather detailed information on the various services needed to allow us to provide you with an accurate proposal. We will also determine whether or not we recommend our professional design services for your project.

Signing Onto the Project

We will schedule a phone call or a physical meeting to discuss the proposal and/or design and will go over the project details and pricing. When you are ready to sign, we will establish a realistic timeline for your project.

Project Begins

Once work begins on your landscape, you can expect efficient craftsmanship and quality results as we work hard to meet our established timelines. You can depend on our team to respect your time and your property, and our owner will be your primary point of contact throughout the project to ensure your needs are being met. We also guarantee a same-day response during business hours for any questions or concerns about the project.
Your Dreams for a Stunning Home Landscape
If you're dreaming of a beautiful, functional landscape that will perfectly complement your Peapack home, you have come to the right place. Parker Landscape Design has been transforming area homes for decades. We have the experience needed to get your home landscaped exactly the way you envision it. It's our job to understand the science and the art of landscaping, and we use that extensive knowledge to design and build landscaping masterpieces that catch people's attention. The landscaping experience itself is designed to be worry-free, and when the project is completed, you'll be enjoying your gorgeous outdoor area for years.
We are a family company with family values. Our team treats each client with respect. Come to us for great landscaping services, but also come to us because we truly care about you. That care shows up in the way we communicate with you, the way we put your needs first, and our overall responsiveness to your concerns. 
If you are looking for a complete landscape makeover, a drainage solution to solve your landscape's problems, a refresh to improve your curb appeal, or a luxurious new outdoor living area, please contact us. We look forward to working with you!