Enhance Your Property With Landscape Lighting
Professionally-Designed Lighting Installations
Bring Out the Best in Your Landscape
Landscape lighting is often part of a large-scale outdoor design build, but it's also a stand-alone project that can change the look and feel of your property. Shine a light on your favorite plants, trees, and hardscaping features, illuminate your home's unique architecture, set the mood for a party, or improve visibility along walkways. When you install landscape lighting, you're giving yourself more opportunities to enjoy your outdoor space in Far Hills, New Jersey.
At Parker Landscape Design, our landscape lighting includes precise plans that meet your goals for safety, visibility, and ambiance. When you're happy with the design, our skilled lighting artisans will work safely and efficiently to place them on your property. After completing thousands of projects in Far Hills, New Jersey, and the surrounding communities, we've developed a proven design and installation process that puts your needs first and gets the job done right.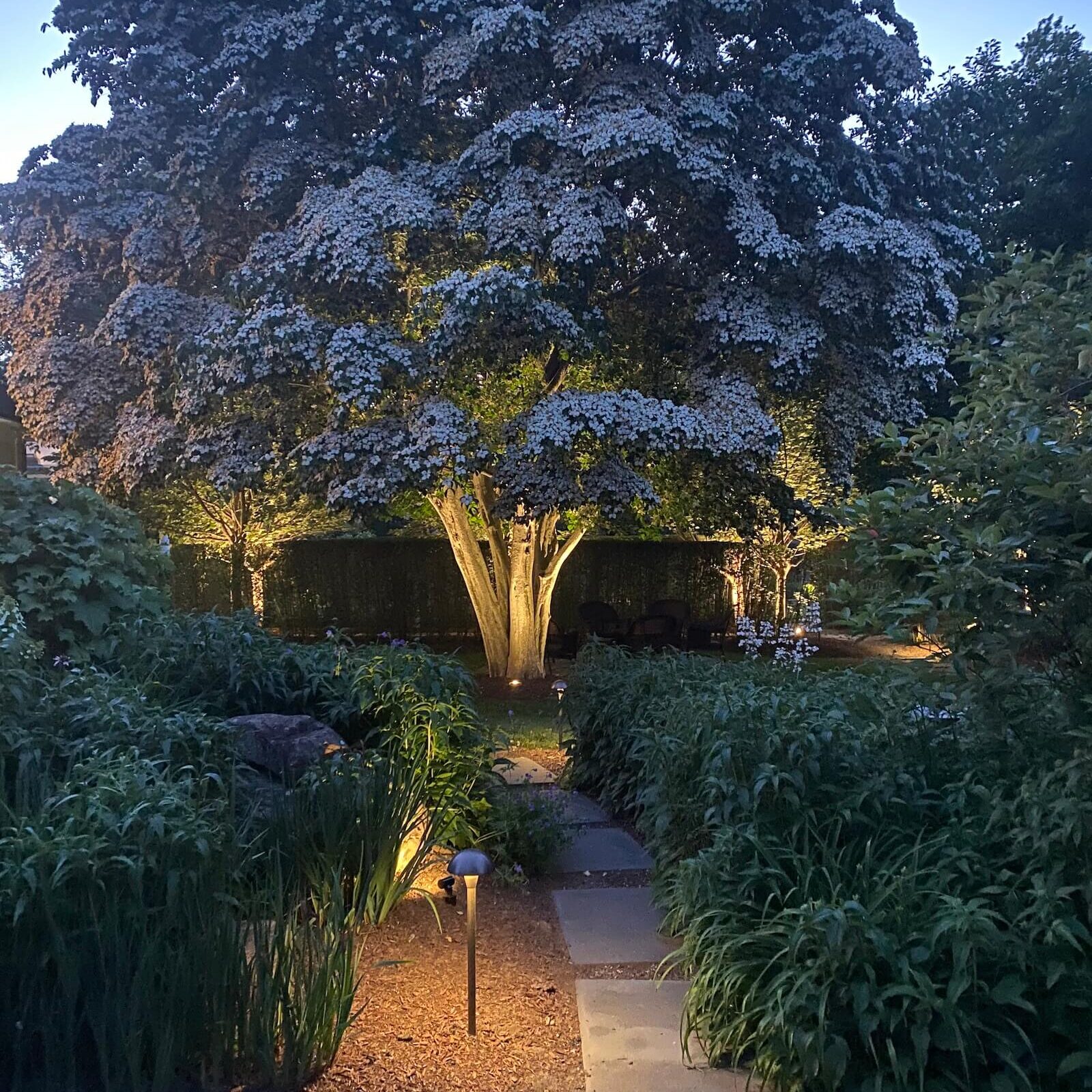 You'll enjoy working directly with Scott Parker, our owner, as your one point of contact throughout your landscape lighting project. From lighting installations to comprehensive landscape design and installation, we're committed to your satisfaction. Fill out our contact form to schedule a consultation.
Why More and More Homeowners Are Installing Landscape Lighting
Landscape lighting is a simple way to elevate your property. The fixtures can become part of the artistry of the space, or the lights can be designed to merge seamlessly with the architecture. Either way, you'll be delighted by how a few simple lighting changes can completely transform your outdoor living area. Consider the possibilities:
Improve visibility on paths, patios and steps to limit the risk of injury or liability
Enhance safety and reduce the likelihood of burglary
Highlight your favorite landscaping features
Use your outdoor space at all hours of the day and night
Install adjustable settings to change the color and brightness to accommodate your outdoor activities
Increase your property value
Whether your primary focus is safety and functionality or aesthetics and ambiance, Parker Landscape Design is here to help. You'll work closely with a professional designer to customize a plan that's right for your home and your lifestyle. Fill out our contact form to get started on your landscape lighting project in Far Hills, New Jersey. We respond to all messages within business hours on the same day we receive them.
Many of Our Best Projects Include
Creative Landscape Lighting
Parker Landscape Design has created inviting and inspiring landscapes throughout Far Hills and our neighboring New Jersey communities. Explore our Portfolio page to see examples of our recent work and discover ideas for your own outdoor oasis.
A Long-Standing Reputation
Parker Landscape Design is a leader amongst landscaping companies in New Jersey, and our satisfied clients within Somerset, Essex, Union, Morris, Mercer, Middlesex and Hunterdon counties have plenty of reasons to share why. From the quality of our work to the transparency of our process, see why our award-winning team has been the choice for thousands of landscaping projects in the region.
A Process Built on Transparency,
Efficiency, and Client Satisfaction
When you work with Parker Landscape Design, you can expect professional communication
and quality craftsmanship every step of the way.
Initial Phone Call/Email

In our initial communication, we will get a general sense of your landscaping needs and determine whether our services are right for you.

Property Visit

During our first visit to your property, we'll ask the necessary questions to make sure the work is aligned with your long-term landscape goals. We will also gather detailed information on the various services needed to allow us to provide you with an accurate proposal. We will also determine whether or not we recommend our professional design services for your project.

Signing Onto the Project

We will schedule a phone call or a physical meeting to discuss the proposal and/or design and will go over the project details and pricing. When you are ready to sign, we will establish a realistic timeline for your project.

Project Begins

Once work begins on your landscape, you can expect efficient craftsmanship and quality results as we work hard to meet our established timelines. You can depend on our team to respect your time and your property, and our owner will be your primary point of contact throughout the project to ensure your needs are being met. We also guarantee a same-day response during business hours for any questions or concerns about the project.
Parker Landscape Design offers comprehensive landscaping services to transform your home. Whether you are looking for an outdoor living space for your family to enjoy or wish to boost your home's resale value by enhancing its curb appeal, our landscape professionals have the upscale solutions you need. View our entire array of offerings at our Services Page.
Landscape Design

We offer superior landscape design and architecture to give your outdoors a refined, luxurious aesthetic. Learn more about our work on our Landscape Design page.

Landscape Installation

In addition to designing an outdoor oasis you'll love, we also seamlessly manage the installation of your landscape from start to finish. Explore our Landscape Installation page to discover more.

Outdoor Living

Expand your home's usable space with outdoor living areas including Fire Pits, outdoor kitchens, built-in grills, Landscape Lighting, and much more. Browse our Outdoor Living page to see our full range of available options.
Custom Landscape Lighting for Homeowners
in Far Hills, NJ and the Surrounding Area
At Parker Landscape Design, we are proud of the work we have done enhancing landscapes across our seven-county New Jersey region. Here are just a few of the towns we service:
Somerset County - Warren, Far Hills, Bernardsville, Bridgewater, Watchung, Peapack, Bedminster, Basking Ridge
Union County - Westfield, Summit, New Providence
Hunterdon County - Clinton Township, Califon, Tewksbury
Morris County - Mendham Township, Mendham Borough, Chatham Township, Madison, Morristown
Essex County - Short Hills/Millburn
Middlesex & Mercer County
Landscape lighting is one of the best choices you can make for your landscape. It brings out the beauty in your garden, patio, fire pit, and other finely crafted hardscapes, and it lights the way for any outdoor activity you wish to enjoy, from reading a book to dining with friends or playing a game. Create your own backyard bistro or set the mood for a festive birthday celebration. Tell us what you're looking for—we can do it all. 
As a full-service design build company, Parker Landscape Design takes a personalized approach to projects of all sizes. You'll enjoy our collaborative process, detailed custom designs, responsive communication, and exceptional results. Contact us to learn more about our landscape lighting and other work in Far Hills, New Jersey, and schedule a consultation today.
We guarantee a 24-hour response during business hours