Outdoor Firepits & Fireplaces
Whether you're looking to extend the summer months or delay the onset of a chilly evening, you can linger longer outside with an outdoor fireplace or custom fire pit. They are an inviting, safe way to light up your landscape, "ignite" a romantic night, or simply provide warmth while entertaining.
The Parker Landscape Design team is highly skilled at creating a cozy outdoor gathering place that fits your needs and your budget. Our fireplaces and fire pits are carefully crafted to provide season after season of safe use. We work with you to identify how you envision using your custom fireplace or fire pit and develop a design that is functional, beautiful, and safe. Whether it's built at the edge of your patio, situated near a water feature, or custom-designed to be a focal point in your outdoor living space, your outdoor fireplace or fire pit design will appeal to your taste and complement your overall landscape.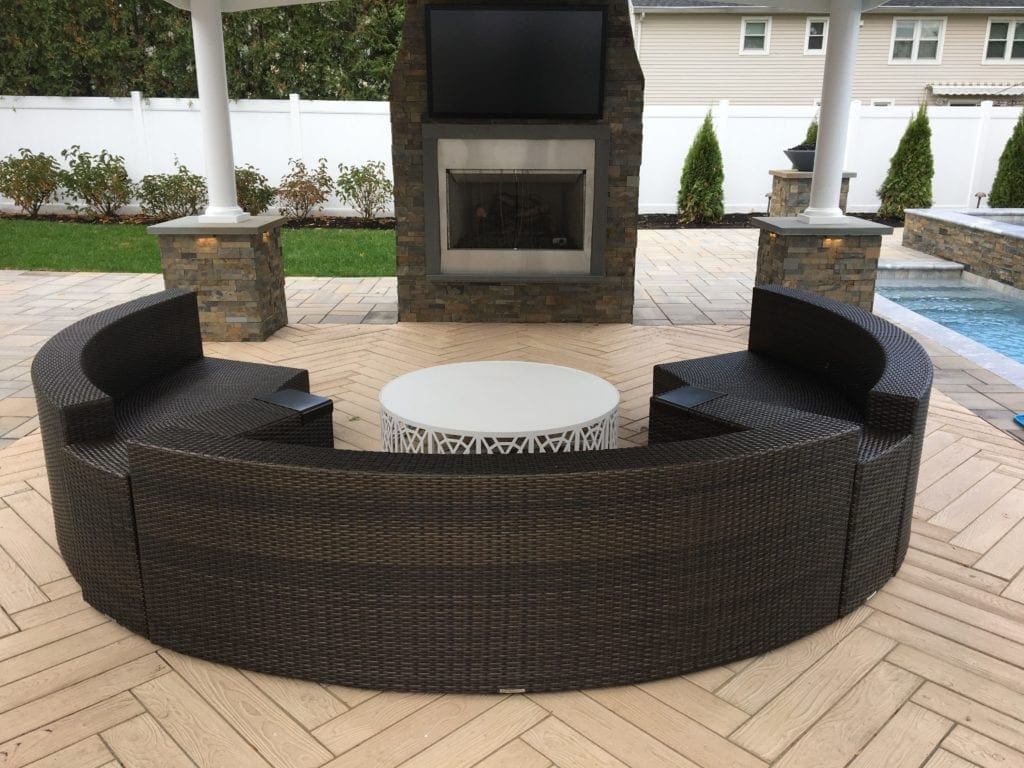 A fire pit is simply a structure that safely contains and controls an exterior fire. Typically, our custom outdoor fire pits are one to two feet high, can be built in any shape desired, and erected on a patio or other desired location. While circular is the standard shape, your options are endless – rectangular, square, or a custom shape that fits in within your environment.
After selecting the shape of your fire pit, you can choose from a variety of material options to suit your taste, including paver stone, bluestone, cultured stone, brick, and natural stone choices. Ultimately, your preferences and budget will determine just how simple or elaborate your fire pit design will be.
Additional services to enhance your outdoor fireplace or fire pit:
A well-designed outdoor fireplace creates a certain ambiance. The glow of the flickering flame invests guests to relax, encourages conversation, and soothes the soul after a long day. During your consultation, our team will work with you to determine the best design for your specific needs. Your outdoor fireplace can be made of a wide variety of materials depending on your style preferences and budget, including cultured or natural stone, block, and cap, or brick veneer.
Outdoor Firepit And Fireplace Design Services
Whether you're looking for a sophisticated fireplace to light up your patio or a dazzling fire pit to warm up your entertaining space, Parker Landscape Design has the expertise to design and install a custom fire feature, just for you. With 70 years of experience, we guarantee quality in every aspect of our services.